---
DESERT WALKER Camping Cot is a versatile and incredibly nicely packable and light outdoor sleeping bed with a carry bag included.
---
Key features & benefits
Lightweight & backpack-portable.
Great weight capacity.
Great packed size.
It allows for legs extensions.
---
What  is in the name – what this is about
This brand has several cots and tent-cots on the market. So the cot presented here should not be mixed with their Desert Walker Camping Cot which is in fact an ultralight backpacking cot, or with their Desert Walker Tent Cot. Both of these are among the lightest existing on the market in their corresponding categories.
So what you have here is their new cot. It is very lightweight but strictly speaking not in the group of ultralight backpacking cots. I would describe it as a backpack-portable.
They use the same name for it as for their other mentioned cot, so the confusion is complete. My guess is that they might discontinue the mentioned ultralight cot and plan to use the same name for this new one.
They also describe it as 'folding' which is far from correct. In fact, this is a collapsible cot. This means it needs assembly, and it takes time when you want to make it ready. The picture below shows its all numerous elements: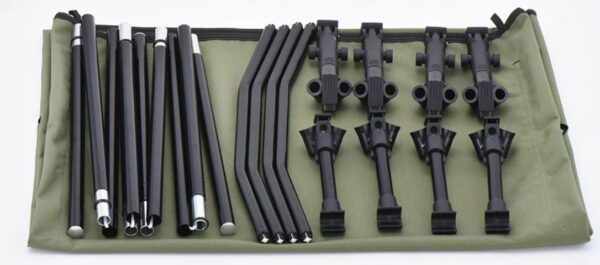 What you see in the picture are the 2 shock-corded side poles, 4 bars with their 8 separate feet, and the bed deck. If you follow the link you will see a detailed description with pictures of how to set this cot up, it is easy and you do not need any extra tool.

New feature – extendable legs
So this is a truly new feature here. The feet are now with holes where you can place extensions. Note that these extensions are not included, they must be ordered separately. See how they look: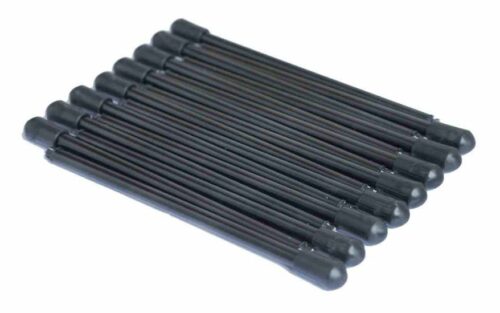 This is a new trend on the market, there are several cots of this type available. You can see them also in this Helinox Cot One Convertible and also in this Moon Lence Camping Cot. Observe that the latter comes with the included extensions.
So the cot's height is different with and without extensions, and this you can see in the pictures below.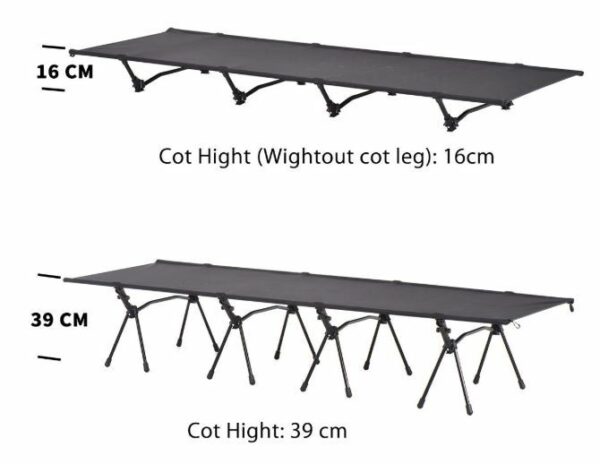 So why would you use these two heights? There is a logic behind this design and here are some possible reasons for this.
For example, if you use the cot in a low tent, you would go for the lover option.
Also, if you plan to carry the cot on some shorter tours, you would not want the extensions, they add weight.
Having extensions looks better for home use, when the cot is used for sudden guests.
Also for home use, with the extensions you might be able to set the cot up in a smaller space. This because its ends and corners might be above some low items in the room that would normally be a problem when you use the low cot configuration.
The variant with extensions is more convenient for elderly users. Getting in and out of the cot is far easier.
If you use the cot in a tall tent, with extensions you will create lots of storage space underneath the cot. Such a space is always lost if you sleep on the ground, this is a big advantage of using cots in general.
---
Who is it for
Regarding the weight, the cot is backpack-portable in both variants. The weight is 4.9/5.6 lb (2.23/2.56 kg). So this is in the category of exceptionally light cots and it can be used on some shorter tours, however there are lighter cots for the trail. The cot is rightly described by the manufacturer as a car-camping item.
Note that it is lighter than its closest competitors built in the same style, I mentioned them in the text above.
Regarding the weight capacity, this is an impressive structure that supports the weight of up to 440 lb (200 kg). Who would say for such a lightweight cot? So I have included it in my list of cots for heavy people.
Regarding the bed size, with its 78.3 x 26 inches (190 x 66 cm), this cot is far less impressive. It is relatively narrow and the length is just typical. But it is important to stress that there are no end bars, so this whole length is fully useful.
Regarding the packed size, the cot is simply excellent. It packs to 20 x 5.5 inches (50 x 14 cm), see how it looks packed: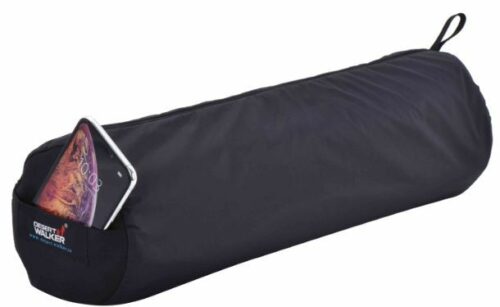 Clearly, you can attach it easily to a pack, and you can also transport it on a bicycle or on a motorbike.
---
Materials
On their site, they write the fabric is "special" and with a composition that is a trade secret. But on Amazon, they describe it as a double-sided oxford, waterproof on the underside. As they claim it resists tearing better than ordinary fabric and will last much longer. The declared capacity is impressive as I pointed out above.
The metal parts is a 7075 aviation aluminum. They do not provide any information about the numerous brackets where all those bars converge.
---
My rating, pros & cons
There are 12 elements in the legs and those are not shock-corded, if you lose one, you have no bed. But if you order extensions, you will have 16 elements more. This is my biggest issue with this cot.
Please see how I rate it against my standard set of criteria used for the cots here in the site:
My rating of the DESERT WALKER Camping Cot:
Product Name: DESERT WALKER Camping Cot
Brand: DESERT WALKER
SKU: B07V8M91H8
Weight -

9.6/10

Size -

8.3/10

Capacity -

9/10

Packed size -

10/10

Ease of use & features -

8/10
Summary
My overall rating for this cot is Excellent:
Pros
Impressive capacity.
Great quality.
Very lightweight.
Backpack portable.
Excellent packed size.
Cons
Not so easy setup.
Not shock-corded elements.
A bit narrow but this is typical.
---
Specifications
Two weights: 4.9/5.6 lb (2.23/2.56 kg). This is without/with legs extensions.
Weight capacity: 440 lb (200 kg).
Bed dimensions: 78.3 x 26 in (190 x 66 cm).
Two heights: (16/39 cm). This is without/with legs extensions.
Packed size: 20 x 5.5 in (50 x 14 cm).
---
Final thoughts
So you have seen it, this DESERT WALKER Camping Cot is with extendable legs if you order them separately. But you can use it as it is in its standard setup. The packed size and weight are great and the weight capacity is simply excellent.

For more items of this type please check under the category Cots, you will find them in all shapes and sizes.
Note that we add texts regularly, so bookmark this site and visit again. Stay informed and subscribe to our weekly newsletter, the subscription form is below. Have a nice day.