---
Ancheer Camping Cot Portable Folding Beach Bed is a nice and very lightweight camping bed which packs to a very small size, suitable for any outdoor activity at places with a car access. It comes with an incredible price tag.

Note: it appears that this cot is no longer available on the market. Sorry about that.
Key features and benefits
Incredible price.
Easy setup – in seconds.

Elevated headrest design.

Carry bag included.
Requires a small floor area to deploy.
What type cot is this
This cot belongs to the group of folding cots with elevated headrest design, so you can use it without a pillow.
It collapses nicely to a packed size 39.4 x 9.4 x 5.5 in (100 x 24 x 14 cm) so as you see it has only one larger dimension. The picture shows nice colors available and how it collapses toward the center, similar to an umbrella.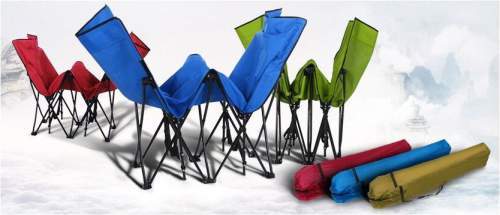 Who is it for
This cot is a great tool to be used at beaches, as a spare bed at home, or as a true camping cot at regular camping places, summer camps, open-air gatherings of any kind, etc.
You have seen its packed dimensions, so it is small when packed and can be transported in a car. Note that it is really lightweight, so carrying it from the car to the camp place is not a problem, in particular in view of its nice carrying bag.
This same carry bag is also useful at home, to store it anywhere and it will be safe from dust.
The length is not so great, so the bed is not for tall people. The capacity is 118 kg, so this is OK but quite moderate, and this picture although attractive is a bit inaccurate: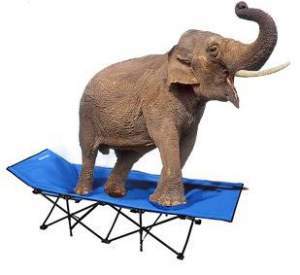 Description
This is a stable steel construction with no less than 10 legs and a very strong 600D bed fabric. The elevated headrest design is a bonus and you can manage without any pillow in your camp. Note also that the headrest cannot be made flat, it is fixed as it is. The same is with other cots of this type, some are shown below.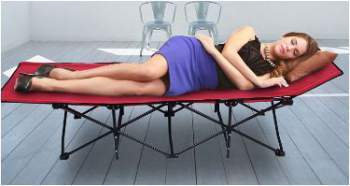 Observe that the legs' system is with floor dimensions 47.0 x 22.6 in (120 x 57 cm) only. Now, in view of its big height 21.8 inches (55 cm), this implies that you can unfold it even in a very small place at home in such a way that some parts of the cot can be above other low pieces of the home furniture, and you can still spread the cot and have an extra bed. You can realize this from the picture: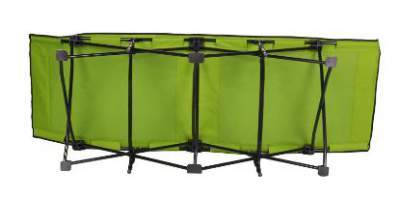 As you can see from the pictures, the cot is without end bars, and this is a good news in view of its relatively short length, so all the length is a useful space. Also, there are no bars directly under the bed deck and there is no danger of pressure points anywhere.
Using the cot in a tent
With the height of 21.8 inches (55 cm), this cot may not so easily fit in solo tents. They are normally with the peak height in the range 90 – 110 cm, but their height reduces considerably in the feet area.
It may be more suitable for some 2-person tents when used solo. In this case you have plenty of space, and the area under the bed can be used to store the equipment. Tents of this kind that come to mind are this Kelty Horizon 2, and larger like Kelty Mirada.
The cot is with 10 feet on the ground, and all have plastic caps for protection, see the picture. So there should be no issues with the tent floor unless the ground is very soft.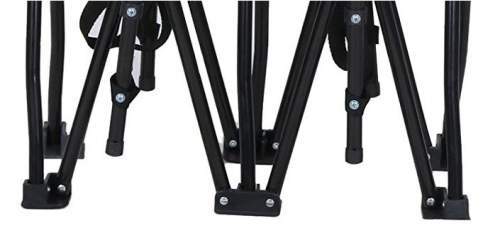 Using a pad or not
In the summertime, you do not need any pad, except if you want more comfort. But for a cold environment, you will need some insulation, yet far less than when you sleep on a pad on the ground. There are many great options available, see some of them here.
My rating, pros & cons
I already mentioned the advantages of the small floor area needed for the legs. But on the other hand, with legs so close to each other, the bed is less stable, as you can realize from the images, so you have to handle it with a bit of care, to pay attention where you sit on. If you sit on the feet area, the other side will be catapulted in the air.
Observe also the length and the width, the latter may be OK although it is narrow like many other cots on the market, but the cot is definitely not for tall people. See how I rate it:
My rating breakdown of the Ancheer Camping Cot
Weight -

8.2/10

Size -

7.9/10

Capacity -

7/10

Packability -

8.2/10

Ease of use & features -

9.8/10
Summary
My overall rating of this cot is Excellent:
Pros
• Great price.
• Very easy to use.
• Very comfortable.
• Versatile.
• Headrest.
• Carry bag included.
Cons
• The cot is quite small.
Specifications
Weight: 12.2 lb (5.53 kg).
Capacity: 260 lb (118 kg).
Dimensions (L x W x H): 72.5 x 23.4 x 21.8 in (184 x 59 x 55 cm).
Packed dimensions: 39.4 x 9.4 x 5.5 in (100 x 24 x 14 cm).
Frame bottom dimensions (L x W): 47.0 x 22.6 in (120 x 57 cm).
Frame: high strength steel.
Fabric: b

reathable 600D polyester.

Storage bag included.
Colors: blue, green, red.
Summary
To conclude this Ancheer Camping Cot Portable Folding Beach Bed review, this is a nicely built and user-friendly cot, very versatile, with nice colors and an incredible price. But it is quite small, so if you are a tall person it is best to check my other text with a long list of cots for heavy and tall people. There are cots with integrated mattresses, so have a look here if this is what you need.
Thank you for reading. Please use the comment box below if you have any comment or question. Have a nice day.

---